Mercedes-Benz
Description
Mercedes-Benz is a German multinational automaker and a division of Daimler AG. It is known for both its passenger and commercial vehicle lineups. It is particularly famous for its premium vehicles, being one of the largest automaker in this segment.
History
Mercedes-Benz can trace its origin to Karl Benz's 1886 Benz Patent-Motorwagen, the first internal combustion engine in an automobile. The Mercedes automobile was first markted in 1901 by Daimler-Moteren-Gesellschaft: Emil Jellinek, who worked with DMG, thought to promote the cars as Mercedes, after the name of his beloved daughter. The commercial success led DMG to trademark the name.
The first Mercedes-Benz named vehicle was produced in 1926, following the merger of Karl Benz's and Gottlieb Daimler's companies into Daimler-Benz. Before WWII, Mercedes-Benz was widely popular in Europe, particularly in its native Germany.
After the war, Mercedes continued to solidify its position as the leading premium automaker in the European market. This was highlighted by the 1954 Mercedes-Benz 300 SL Gullwing (W198) that incorporated numerous industry-firsts. It also caught the attention of the North American consumers. In 1965, Mercedes Benz of North American was formed.
In recent decades, Mercedes has greatly expanded its vehicle lineup, offering economy models and a broad range of crossovers. The company's racing team has also gained enormous success, particularly in Formula One.
Current Lineup
Like other German premium automakers, Mercedes has expanded its vehicle lineup considerably. The last letter in the model name represents the level, with "A" and "B" being the economy level, "C" being compact, "E" being executive, and "S" being top of the line ("special"). "CL" means a sedan with a "4-door coupe" look, while "GL" means crossover.
Hatchback: A
Sedan: A, C, CLA, CLS, E, S, AMG GT4
Wagon: C, CLA, CLS, E, S
Coupe: C, E, S
Convertible: C, E, S, SL, SLC
Sports Car: AMG GT
MPV: B, V
Crossover: GLA, GLB, BLC, GLE, GLS, EQC
SUV: G
Scores
No review has been published yet.
Products
Launch Comparison
Clear List
Articles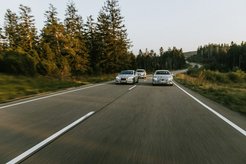 Mercedes Expands Its EV Lineup with Six Upcoming Models In 2021, Including the EQS Flagship Sedan
Mercedes is introducing 6 EV models in 2021: The EQS luxury sedan and the EQA and EQB crossovers will lead the way, with EQS SUV and EQE models coming later...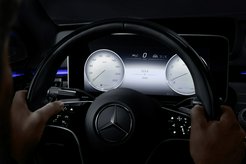 MBUX mk2 to Launch with the New S-Class: MB Previews A Host of Technologies to Enrich the Infotainment Experience on the W223
Mercedes has offered a preview into its second-generation MBUX infotainment system to be debuted with the new W223 S-Class. With this upgrade, the vehicle wi...
Reviews
None found
Comments
More Innovators