Toyota
Description
Toyota Motor Corporation is a Japanese multinational automaker. It is the world's second-largest by sales volume behind Volkswagen. Toyota is the global market leader in hybrid electric vehicles and hydrogen fuel-cell vehicles.
Toyota's management philosophy has long been studied in the strategy literature with such concepts as "Lean Manufacturing" and "Just In Time Production".
History
The production of Toyota automobiles started in 1933 as a division of Toyoda Automatic Loom Works. The Toyota Motor Company was established in 1937; its vehicles were originally sold under the name "Toyoda". The Japanese government supported Toyota by preventing foreign competitors from importing automobiles to Japan.
After the war, Toyota marketed small vehicles under the name "Toyopet". The company continued to receive state support.
In response to the "chicken tax" that placed 25% tax on imported light trucks to the US, Toyota began building plants in the US in the early 1980s. The oil crisis in the 1970s started to change consumer preference, and Toyota's small, fuel-efficient cars that were competitively priced grew in popularity.
In the 1990s, Toyota added many larger and more luxurious vehicles to its lineup. It also launched the
Lexus
brand of luxury vehicles, initially in the US and gradually all over the world.
Current Lineup
Like many multinational automakers, Toyota markets different models in different markets. Some notable vehicles include (non-exhaustive):
Sedan: Avalon, Camry, Century, Crown, Mirai
Wagon: Corolla Touring Sports
Hatchback: Argo, Corolla, Prius, Yaris
Coupe: 86, Supra
SUV: 4Runner, Land Cruiser, Prado, Sequoia
Crossover: Highlander, RAV4
MPV: Sienna
Pickup: Hilux, Tacoma, Tundra
As Toyota is the industry leader in hybridization, many of these vehicles have hybrid drivetrain options. Some are available exclusively in hybrid form. The Mirai is a hydrogen fuel cell vehicle.
Scores
No review has been published yet.
Products
Launch Comparison
Clear List
Articles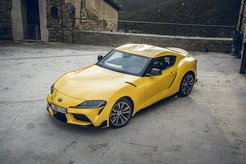 Toyota GR Supra Awards & Reviews Roundup mid-2020
A year has passed since the initial launch of the Toyota GR Supra. In this article, we sum up the awards that it has garnered and summarize what a couple of ...
Reviews
None found
Comments
More Innovators