Land Rover
Description
Land Rover is a British brand of premium crossovers and SUVs under the ownership of Jaguar Land Rover (JLR), which has been a subsidiary of India's Tata Motors since 2008.
History
Created in 1948 by the Rover Company, Land Rover was intended to be a utilitarian four-wheel drive offroad vehicle. Over time, Land Rover grew into its own brand with a series of offroaders.
In 1970, the company introduced the Range Rover. In 1978, it became a subsidiary of British Leyland.
BMW
acquired the Rover Group in 1994. In 2000, Land Rover was sold to Ford. In 2007,
Ford
started selling Land Rover along with Jaguar Cars. The next year, Land Rover and Jaguar Cars were sold to Tata Motors; the two entities were formed as Jaguar Land Rover Limited.
Current Lineup
Land Rover's current vehicle lineup includes several crossovers and SUVs:
Defender: offroad SUV
Discovery Sport, Range Rover Evoque: subcompact crossovers
Discovery, Range Rover Velar, Range Rover Sport: mid-size crossover
Range Rover: full-size SUV
Scores
No review has been published yet.
Products
Launch Comparison
Clear List
Articles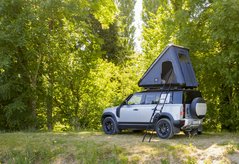 Land Rover Introduces Autohome Rugged Roof Tent for the New L663 Defender 110
Land Rover and Autohome have developed an easy-to-deploy roof tent for the New Defender that can be put up in seconds. Designed for two adults, the rugged ro...
Reviews
None found
Comments
More Innovators