MINI
Description
MINI is a British automotive marque owned by
BMW
since 2000. The original Mini was a line of small cars manufactured by the British Motor Corporation (BMC), which became British Motor Holdings and later British Leyland. In the 1980s, British Leyland was broken-up, and Mini was part of the Rover Group. BMW acquired the Rover Group and kept the Mini brand.
Today, the Mini lineup comprises of a series of hatchbacks and crossovers.
Scores
No review has been published yet.
Products
Launch Comparison
Clear List
Articles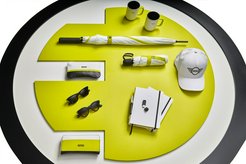 The MINI Lifestyle Collection 2020: Sustainable, Colorful, and Fun
The 2020 MINI Lifestyle Collection which includes a wide range of products. BMW has highlighted the sustainable aspect of this collection while introducing m...
Reviews
None found
Comments
More Innovators