Honda
Description
Honda Motor Company, Ltd. is a Japanese multinational conglomerate best known for manufacturing automobiles and motorcycles.
Since the 1960s, Honda has been the world's largest motorcycle manufacturer. It is also the world's largest manufacturer of internal combustion engines, reaching over 14 million each year. Honda is the second-largest Japanese automaker after Toyota; it is the world's eighth-largest in 2015.
History
Honda started a company in the 1930s that would mass-produce piston rings using an automated process. During WWII, Toyota took a 40% stake in the company. After the war, Honda sold the salvageable assets of the company to Toyota and used the proceeds to found the Honda Technical Research Institute in 1946.
Honda initially produced motorized bicycles using a war surplus radio generator engine. When the supply ran out, they started building their own copies of the engine and supplying them to customers to attach to their bicycles, the Honda A-Type.
In 1949, the company was liquidated, and Honda Motor Co., Ltd was incorporated. The D-Type from the same year would be Honda's first complete motorcycle.
Honda's first production automobile was the T360 mini pick-up truck, while the first production car was the S500 sports car, both from 1963.
Over the next decades, Honda expanded its product lineup and in 1986 introduced the luxury vehicle brand Acura. In recent decades, like most other automakers, Honda has been shifting to a crossover-heavy model lineup.
Current Models
Honda has currently a large number of models in its automobile lineup, ranging from the traditional sedans and hatchbacks to crossovers, and sports cars. Its motorcycle lineup is equally impressive, owning to its leading position in the market.
Scores
No review has been published yet.
Products
Launch Comparison
Clear List
Articles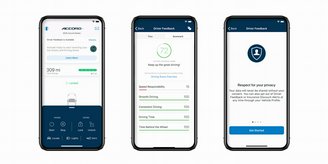 Driver Feedback App Feature to Help Improve Driving Techniques of Honda and Acura Owners in the US
A new Driver Feedback feature allows participating owners of Honda and Acura vehicles to receive feedback on their driving techniques. Successful owners may ...
Reviews
None found
Comments
More Innovators