Intel
Description
Intel Corporation is a leading American semiconductor chip manufacturer. One of the largest US corporations, Intel is best known for its microprocessors, though it also designs, develops, and manufactures motherboard chipsets, network controllers, flash memories, and more.
History
Founded in 1968 in California, Intel saw explosive growth in its early days. Its first products were in the semiconductor memory market, releasing the first commercial metal-oxide-semiconductor field-effect transistor (MOSFET) static random-access memory (SRAM) and the first commercial dynamic random-access memory (DRAM).
In 1971, Intel created the first commercially available microprocessor, the Intel 4004, which eventually led to the "personal computer" concept. As the PC market exploded in the ensuing decades, Intel experienced unprecedented growth, building a robust brand recognition in the processor. During the same period, Intel moved away from the memory market due to decreasing profit margins.
As the PC market reached saturation, and as its main competitor, AMD, impinged on Intel's market shares, Intel's dominant position was weakened, and growth slowed.
In 2006, Intel launched its Core microarchitecture that gradually reignited the company's momentum. Today, it remains focused on the microprocessor market.
Current Products
While Intel operates a several areas in the semiconductor market, two of its operating groups are of interests to consumers:
Client Computing Group manufactures CPUs, motherboard chipsets, and network controllers for desktop and notebook computers.
Non-Volatile Memory Solutions Group manufactures NAND flash memory and 3D XPoint / Optane memory for solid-state drives (SSDs).
Scores
No review has been published yet.
Products
Launch Comparison
Clear List
Articles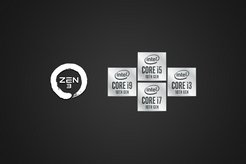 Comet Lake vs. Zen 3 Desktop Processors: How Do They Compare in Feature and Performance?
How do Intel's Comet Lake-S and AMD's Zen 3 Vermeer desktop processors compare in terms of feature set and performance? We answer it here.
Reviews
None found
Comments
More Innovators