HP
Description
HP Inc. is an American manufacturer of personal computers, printers, and related accessories. It was formed from the PC and printer divisions of the original Hewlett-Packard Company, which became defunct in 2015.
History
The original Hewlett-Packard Company was founded in 1939 as a partnership in Palo Alto by two Stanford graduates. The first financially-successful product was the HP200A, a precision audio oscillator. HP was incorporated in 1947 and went on public in 1957.
In the 1960s, HP gradually became a leading manufacturer of minicomputers for scientific, business, and industrial markets. These evolved into desktop computers.
In 1984, HP introduced inkjet and laser printers. It registered the HP.com domain name in 1986, the 9th .com ever to be registered.
HP expanded its computer business to target consumers in the 1990s. By the end of the decade, all businesses not related to computers, storage, and imaging were spun off from HP to form Agilent Technologies.
In 2001, HP merged with Compaq. In the decade that followed, HP saw a series of setbacks. In 2015, it spun off its server, storage, and networking business into Hewlett Packard Enterprise. The PC business became HP Inc.
Product Lineup
HP now markets primarily personal computers and printers as well as related product.
Its PC lineup consists of 11 series split into four categories:
Business desktops (from entry-level to premium): ProDesk, EliteDesk, Z workstation
Business laptops (from entry-level to premium): ProBook, EliteBook, ZBook
Consumer PCs (from entry-level to premium): Pavilion, Envy, Spectre, Omen
Chromebook
HP also markets a wide range of office and large-format printers.
Scores
No review has been published yet.
Products
Launch Comparison
Clear List
Articles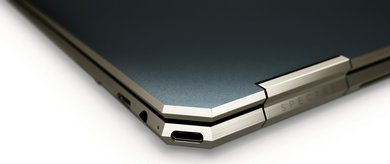 Guide to HP's Late-2020 Laptop Lineup
Our guide to choosing a laptop from HP in late 2020 in terms of Form Factor, Display, and Power across HP's Spectre, ENVY, OMEN, and HP Gaming lineups.
Reviews
None found
Comments
More Innovators