Electrolux
Description
Electrolux is a Swedish multinational that manufactures home appliances. Founded in 1919 in Stockholm, Electrolux is one of the largest home appliance manufactures in the world, marketing products across the world under a large number of brand names.
Most of the brands that Electrolux owns are acquired through mergers and acquisitions. They usually target only a limited geographic region and, therefore, are not well known internationally.
Scores
No review has been published yet.
Products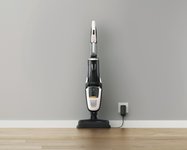 Electrolux PURE F9 Cordless Bagless Vacuum Cleaners (PF91) Standard, Animal, Allergy
The Electrolux PURE F9 series cordless bagless vacuum cleaners are efficient yet powerful. Without the limitations of a power cord, the light vacuum cleaners can easily clean highs and lows that would otherwise be difficult to reach. They can also stan...
Launch Comparison
Clear List
Articles
None found
Reviews
None found
Comments
More Innovators