Product Gallery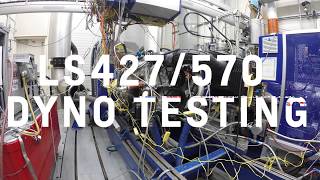 X
Product Description
The Chevrelot Performance LS427/570 create engine is an enhanced version of the production LS7 7.0L engine with an increase of 65 hp (to 570) of power and 70 lb-ft of torque (to 540).
A new, high-lift camshaft developed specifically for this engine and a new wet-sump oiling system that is easier to install compared to the production LS7's dry-sump system are the highlights.
Find Related Products (incl. referral links)
Specifications
Construction
Material
Cast aluminum block with 6-bolt, cross-bolted main caps (P/N 12602689)
PistonsHypereutectic aluminum
Rocker ArmsInvestment-cast, roller-bearing trunnion
Performance
Top Speed
Max Engine Speed7000 rpm
Powertrain
Engine | Bore X Stroke
4.125 x 4 in (101.6 x 92 mm)
Engine | Compression Ratio
11:1
Engine | Displacement
427 cu. in. (7.0 L)
Engine | Power
570 hp @ 6200 rpm
Engine | Torque
540 lb-ft @ 4800 rpm
Engine | Type
LS-Series Small-Block V-8
Production
Debut
2020-06-12
EAN Code
19420191
Made In
USA
Model Name
CamshaftHydraulic roller type (P/N 19419859)
Connecting RodsForged titanium (P/N 12661677)
CrankshaftForged steel (P/N 12611649)
Cylinder HeadsCNC-ported LS7-style ports with 70 cc combustion chambers
Valve Size2.200" titanium intake, 1.610" sodium-filled exhaust
This page may contain affiliate links to third-party merchants such as Amazon, eBay, and Rakuten. When you make a purchase using the supplied links, we will receive a commission.