Xiaomi Showcases 3rd-gen Under-Display Camera to Equip the Company's High-End Smartphone Next Year
Xiaomi
Published on 28 Aug 2020
Last edited on 23 Jan 2021
Written by Dr Jiulin Teng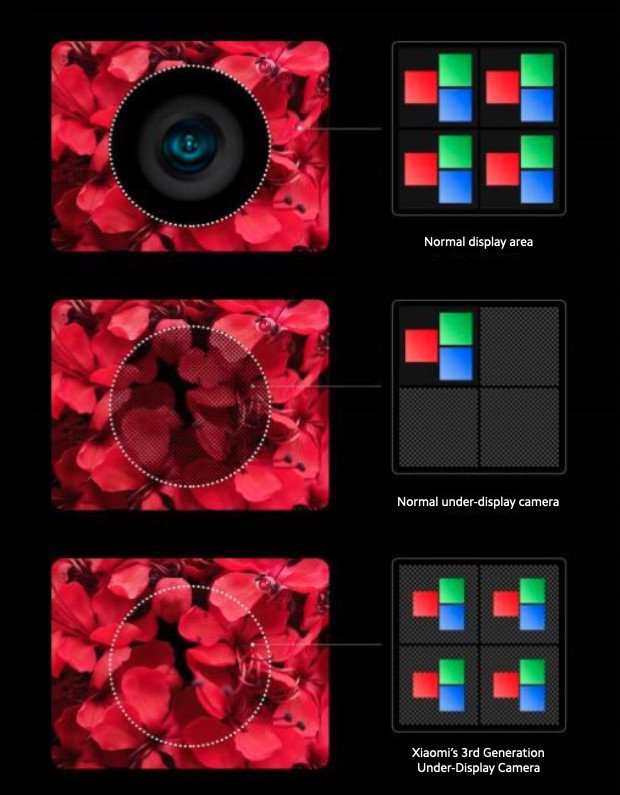 Xiaomi has just showcased the 3rd-generation under-display camera that the company plans to equip its next-gen high-end smartphones in 2021. This brand-new technology is able to disguise the front camera under the phone's screen without ruining the edge-to-edge display appearance.
Compared to the second generation under-display camera that reduces pixel density above the camera module to produce transparency, the new under-display camera technology comes with Xiaomi's proprietary pixel arrangement that allows the screen to pass light through the gaps between sub-pixels, allowing each pixel to retain a complete RGB pixel layout without sacrificing pixel density.
Compared with other common solutions on the market, Xiaomi has doubled the number of horizontal and vertical pixels, achieving the same pixel density above the camera as on the rest of the display. The entire display therefore achieves the the same brightness, color gamut, and color accuracy throughout.
Xiaomi's 3rd-gen under-display camera also adopts a special circuit design to hide more components under the RGB sub-pixels to further increase the light transmittance of the under-screen camera area. Combined with Xiaomi's self-developed optimization algorithm, the new under-display camera matches the imaging performance of conventional front cameras.
Comments